The contest is now over, thanks to everybody who participated !
The websites Inspired-Lua and TI-Planet, with our partner R. JARRETY (where you can order your TI calcs with great TI-Planet prices), are organizing a new, great contest  in  a scale never seen before !
First, for the first time in the history of our site, the competition crosses the borders of France and whatever your country of residence, you can take part in it !
Moreover, the prize is absolutely amazing and unprecedented :
->
3 TI-Nspire CAS CX
<-
, so that's three times more likely to win!
No, you're not dreaming !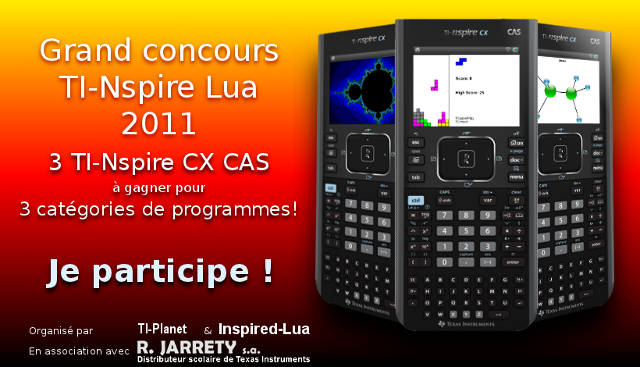 You only have to create a Lua program for TI-Nspire in connection with one of these three categories:
Mathematics
Physics and Chemistry
Games
You'll need an Nspire OS (or software) 3.0 or later (preferably 3.0.2 – see links).
The only requirement is that your program is suitable for a French user. If your program displays text, use single common words in a foreign language is tolerated.
Use Google Translate if needed.
To participate, simply send an email to    info @ tiplanet . org by November 7th, 2011 23:59 GMT +2 (DST French) with these information :
your full name
your full address
a valid email address

which is *only* used to send your reward

the chosen category
an archive as an attachment
The attached archive will contain:
the program format 'tns'
source code
a description in a file 'readme.txt'
possibly documentation (format and contents are free)
You can submit only one program for the competition, so you can participate in only one category. Choose the right one wisely !
However, it is perfectly possible to update an already submitted or even change the program or the category you chose just by sending a new email to participate, since only the last one received will be taken into account.
Good luck to everybody !
Links:
Official Rules
Inspired-Lua (documentation & Lua ressources)
TI-Planet (help & resources)
Lua generator, "Luna"
OS 3.0.2 for TI-Nspire
OS 3.0.2 for TI-Nspire CAS
OS 3.0.2 for TI-Nspire CX
OS 3.0.2 for TI-Nspire CX CAS
TI-Nspire 3.0.2 Software student for PC (free for 30 days)
TI-Nspire 3.0.2 Software student for Mac (free for 30 days)
TI-Nspire 3.0.2 Software teacher for PC (free for 90 days)
TI-Nspire 3.0.2 Software teacher for Mac (free for 90 days)